Then, we have game 5, The Final Scene.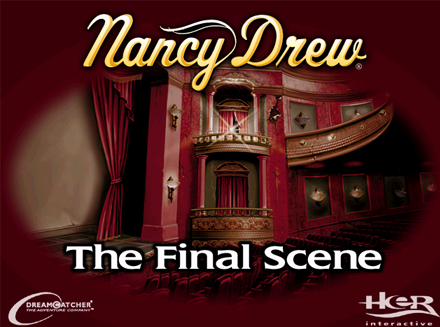 A friend of Nancy's, Maya Nguyen, is doing a piece on the demolition of a very old theatre, the Royal Palladium, in Saint Louis. She scores tickets to the premiere of the latest Brady Armstrong movie, which will be the very last showing at the Palladium before it is destroyed, so she invites Nancy to come with her. Within seconds of the two of them getting there, however, Maya gets kidnapped, and Nancy has to race against the clock in order to save her before the theatre is demolished.
Oh, Nancy. You're just walking, talking, sleuthing bad luck, aren't you?
I
loved
the setting and the characters in this game. The theatre is beautiful, and I enjoyed all the old-world-magician lore. The characters are interesting, as well. I enjoyed how well-rounded Brady turned out to be. Simone was such a jerk, I loved it. And Joesph Hughes was really sweet -- it was obvious how much he loved the theatre, how running theatres was his whole life.
The energy was perfect for a Nancy Drew game, and I don't think any other game captured the sense of urgency Nancy has in this one quite as well. She's super frustrated and yelling at everyone in the beginning, and as time goes on and the police start to think she's crazy, she gets more and more upset, until you get to the end and she's basically running around freaking out trying to find Maya literally
moments
before the building is demolished. Super cool.
However. And this is a pretty big however, at least to me: The play length and difficulty just weren't there. I finished the game in one sitting, and I didn't need any help figuring out the puzzles. Whenever I play a Nancy Drew game, I always make sure to have a pen and paper near by to work out any puzzles I come across; in this game, I only used it once -- to draw a copy of the key. That's it.
Spoilers:
(
The Final Scene
Collapse
)
All in all, I'd give
The Final Scene
:
7/10
A great setting, an amazing sense of urgency, and likable and believable characters all make this game exceptional. However, the short length and the ease of gameplay keep it from being truly great.